Extreme Networks 800-Series

Cost-Effective Fully-Featured Enterprise-Class 10/100 and 10/100/1000 Switch Family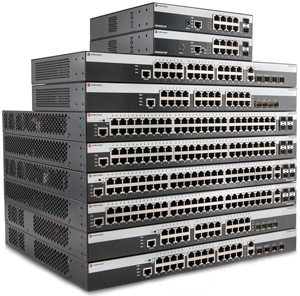 The Extreme Networks 800 Series is a highly reliable Fast Ethernet and Gigabit Ethernet family of edge switches that provides scalable, wire-rate performance. The 800 Series is comprised of ten models:
24 and 48 port PoE and non-PoE 10/100 switches
8, 24 and 48 port 10/100/1000 PoE and non-PoE switches
Line rate L2 switching with built-in static routing
IEEE 802.3at PoE (up to 30 watts of power on a port)
Quiet designs (operates with fans turned off) for most non-PoE models
Optional redundant power for all models Extreme Networks award-winning
Lifetime Warranty support
Up to eight switches can be interconnected to form a single managed entity thereby creating a virtual switch that can be managed with a single IP address to help minimize management requirements. An integral power supply is the primary source of power for all 800 Series switches and complete power redundancy is provided by optional external power supplies.
All PoE switches support IEEE 802.3at which allows up to 30 watts of PoE power to be provided to a single port. Dynamic power allocation is supported which allows unused allocated PoE power to be returned to the central pool for use on other ports. Up to 375 watts of PoE power are available on the 24 port and 48 port PoE models.
End users can be authorized via IEEE 802.1X, MAC address or web-based authentication. Class of service, bandwidth control and Access Control Lists (ACLs) are standard features on all switches.
Most models have fans (the 24 port 10/100 switch is fan-less) but the fans on most of the non-PoE models do not run unless the temperature exceeds 36°C thereby providing quiet operation. There is also built in temperature monitoring that provides high temperature alerts to the end user so that the optimal operating environment can be maintained.
800-Series switches can be managed via a Command Line Interface (CLI), an excellent web interface or via NetSight, Extreme Networks' advanced management application.
The 800-Series carries an industry-leading Lifetime Warranty which provides next day shipment, telephone support for one year, bug fixes, firmware upgrades and web-based support or five years after the product goes end of sale.